Reflections from Diller Teen Fellows
Two of our of Diller Teen Fellows of Greater MetroWest NJ write about their experiences on the Israel Summer Seminar.
By Maya Soudry
This summer, the Diller Teen Fellows program gave me an experience that I will remember and keep with me forever. Personally, going to Israel was the highlight and peak of the entire program. This trip exposed me to Israel through an entirely new lens, and although I have been to Israel with family and other teen groups before, never has a trip to Israel been this impactful and memorable.
The theme of our Israel trip was "Israel of Many Faces." Over the course of three short weeks, we met with so many interesting and intelligent people whose views were refreshingly different than what we were used to. For example, we traveled to the West Bank in order to meet with a Palestinian man who grew up in Bethlehem, who expressed his opinion on the Israeli-Palestinian conflict. Later, we also met and heard from an Israeli Jewish woman whose family chose to move and live in the West Bank.
During our touring days, we learned about other important issues. One day, we heard from a representative from Women of the Wall, and the next day, we heard from a Charedi Rabbi to learn about the Charedi community. Our group also met with Israelis from various backgrounds and embraced the diversity of Israel. We visited the many Jewish holy sites around Jerusalem such as the Western Wall and also visited the Church of the Holy Sepulchre. It was amazing to see so many different people respect each other and their holy worship sites. One of my favorite touring days was when we visited a Druze village where we were introduced to Druze hospitality with a delicious meal. It was really interesting to learn about this religion that I had known little about.
After our first week of touring, we drove to our partner city, Rishon LeZion, and reunited with our Israeli friends. The week in Rishon was by far the highlight of the entire trip for me because it was such an amazing experience developing friendships and becoming so close with the Israeli teens. I became especially close to Lihi, the Israeli girl that hosted me. I know for sure that my friendship with her will be lasting and I will always have a place to stay every time I come to Israel. During community week in Rishon LeZion, a strong bond was also created between our two groups and we truly became one big family.
After the Metro-Lezion delegation week was over, we all drove up to the Galilee for Congress, when all 640 Diller fellows from around the world come together. Although at times it was overwhelming to meet so many new people, it was such a unique opportunity to meet Jewish teens from all over the world. Every day of Congress, we participated in learning sessions, where we were in very diverse groups of Israeli and International fellows. One discussion that resonated with me was about the future of the Jewish people, and whether being spread out was good or bad for the future of our people. This was just one of many conversations we had together throughout the week.
Through all the traveling and touring throughout Israel, our group of 20 fellows from Greater MetroWest NJ truly developed into a big family.
My time in Israel and in the Diller Teen Fellows program has made me feel more confident as a person and as a leader. Over this past summer and year, I have learned so many useful tools that I know I will use in the future. I have also made so many friendships in Greater MetroWest, Rishon LeZion and across the world that I am going to keep with me and remember forever.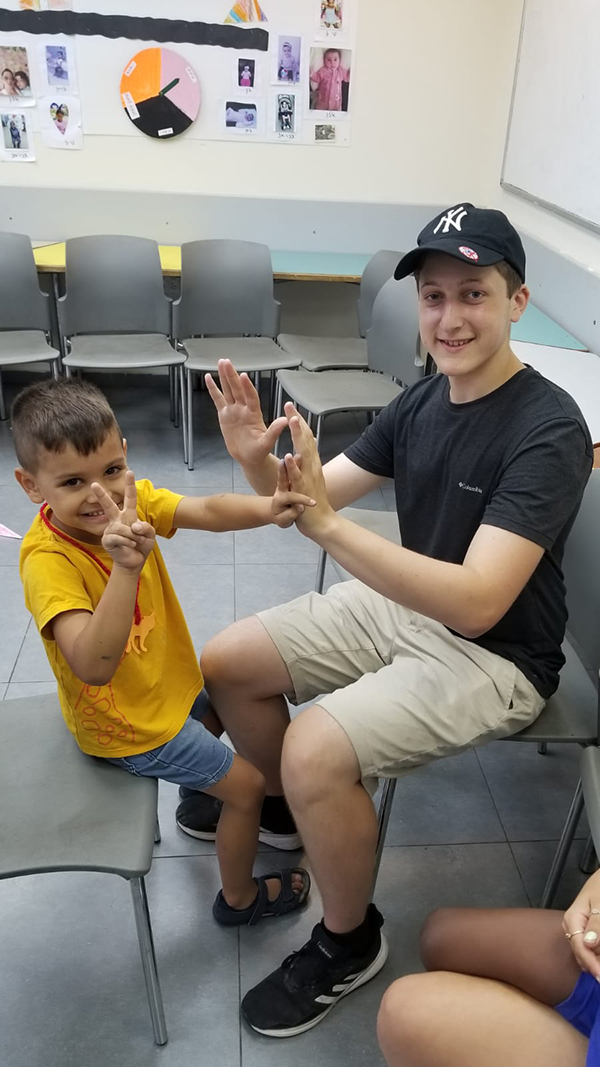 By Jack Reppen
The Diller Israel experience has truly changed my life by allowing me to be exposed to new perspectives and make strong connections with Jews around the world. When I think about my fondest memory from the entire experience, it is hard to choose just one. There were so many moments where I found myself thinking that this journey could not get any better than what was happening right now. A main highlight for me was seeing all of the different types of communities and perspectives that build Israel's complex society. This is one of the reasons I truly cherish the Diller program.
We then went to Gush Etzion in the West Bank to talk to both a Jewish settler and a Palestinian Arab who has lived in this area his entire life. It was eye opening and helpful to hear a Palestinian perspective on the conflict in Israel, and it has provided exposure to what the realities are for someone who is trapped in this complicated situation. Later that night we had a "Meet the Israelis" panel where we gained perspectives from a young Charedi woman, an Arab Israeli, a left wing Israeli activist, a member of the Ethiopian Jewish community, and a person who grew up as an Israeli settler. These perspectives helped to further my understanding of daily life for different people in Israel. The next day, after a surfing workshop in Bat Yam we went on an LGBT tour of Tel Aviv, where learned of the increasing growth of this community, the largest in the Middle East.
We then had our International Shabbaton, where we met with all of the jewish communities from all over the world. I made new friends from Buenos Aires, Argentina to Melbourne, Australlia and everywhere in between. Having the ability to see both the similarities and differences within our Jewish communities was mind blowing to me. Additionally, the Shabbaton was held in a Bedouin village in the middle of the desert, which made me connect more to the Biblical stories we learned and discussed with the other communities.
We then climbed Masada to watch the sunrise and swam in the Dead Sea before heading to our local community partnership, Rishon LeZion. For an entire week, I felt like an Israeli; living, eating, dancing, and acting like one. We learned about the realities of living in Israel, all while having fun with the friends we made during the Jewish Communities Mifgash in America. Then, we all went to the Diller Congress, where we met both the International Diller communities, and their Israeli partnership communities. It was both amazing and overwhelming to see over 600 Jewish teen leaders from all over the world, meeting in one place. In discussions, I gained insight into the personal Jewish experiences from communities around the world.
After these five exciting days of building connections with other Jewish teen leaders, our group and our partnership went rafting down the Jordan River and had a tour of the mystical city of Tzfat. The next day we hiked Mount Meron and went on a Jeep Tour of the Galilee before heading to Akko for Shabbos. After spending Shabbos walking the city of Akko with friends from Rishon, we knew it was time for them to depart. After an emotional goodbye that night, we spent the next day at the Bahai Gardens in Haifa. We then traveled to Tel Aviv to go on a graffiti tour, and ended the night with a closing ceremony before heading to the airport.
Overall, I can say that this Diller experience has changed my life and made me realize how diverse the Jewish people really is, while still holding on to core Jewish values. Israel is a very complicated place with many differing perspectives and beliefs, but I feel like I truly have a home in this land.