What Could I Do to Support the Pittsburgh Jewish Community?
by Maxine Schwartz
On Saturday morning, October 27, 2018, I sat in the first pew at Temple Emanu-El of Westfield, surrounded by my family and friends. I beamed with pride as my third and youngest son, Leo, became a bar mitzvah. Unbeknownst to all of us, the largest massacre of Jews in United States history was unraveling during a service much like ours — in a synagogue that was filled with proud Jews praying, celebrating, and coming together to share Shabbat.
No one mentioned what was happening in Pittsburgh to my husband, my sons, or me that day. They didn't want to mar our mitzvah, so we remained blissfully unaware of what was happening outside of our own synagogue. Of course, we soon learned of the horrific event, and now the story of Leo's Jewish journey will always be tied to the Tree of Life Synagogue.
My family and I had no previous connection to the Squirrel Hill neighborhood and, to be honest, we had rooted against the Steelers whenever they played our beloved Philadelphia Eagles. However, we knew we had to do something to help that community heal, to give them a sense of hope.
I am the owner of a jewelry company intrinsically tied to doing good, MAS Designs. My community of customers are like-minded – they are committed to bringing out both their inner and outer beauty, to making a difference, and to taking a stance against hate – and I knew they would want to do their part as well. So, I created a Tree of Life necklace fundraiser. All the profits from the necklaces would go directly to benefit the Squirrel Hill community.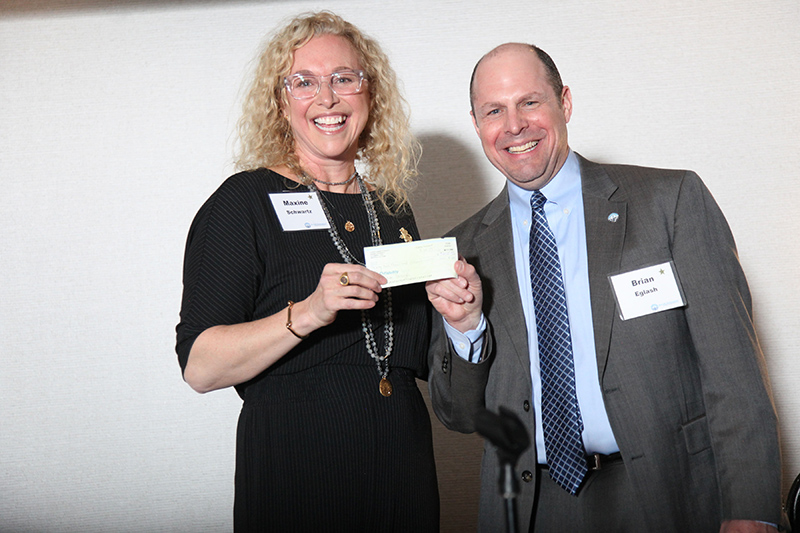 I'm proud to report that in just a few short weeks, this initiative raised over $32,000. And less than five months after that fateful day, at our Jewish Federation of Greater MetroWest NJ LIVE365 community event, I presented a check to Brian Eglash, a leader at the Jewish Federation of Greater Pittsburgh and himself a congregant at the Tree of Life Synagogue.
My family and I have always been committed to tikkun olam – saving the world – but I never could have imagined the impact we could make. I truly believe that anyone can do the same by following their passions. Women all over the world are wearing their Tree of Life necklaces to remind them that there is no place for hate in our world.