How my Bar Mitzvah Project Built Bridges
By Josh Lubetkin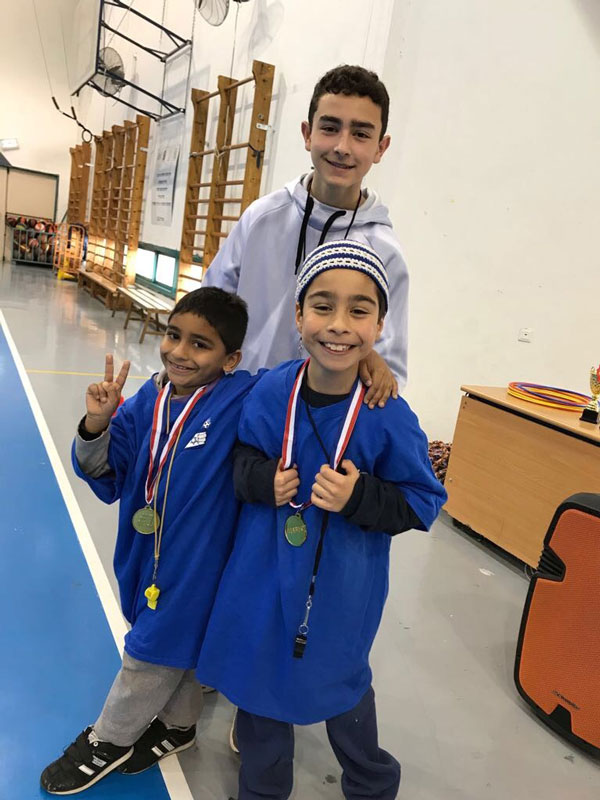 I just returned from my second trip to Ofakim to complete my bar mitzvah project. It began in the summer of 2015. While I was in Ofakim, our friends there, the Tangi family, helped me arrange a soccer tournament to get to know some boys my age. (The Tangis became friends of ours through Federation's Yoga Connections program). We had to play soccer on a hard court, and while I was there I also saw the dirt fields that the kids at Abir Yaakov School were playing on. I decided that, for my bar mitzvah project, I wanted them to have a real soccer field. With the help of Tal and Anat in the Federation Ofakim office, we made my dream a reality.
Back in New Jersey, I hosted a fund-raising tournament for all my friends and everyone I invited to my bar mitzvah. We had a great turnout and a lot of fun. I spoke to the crowd about the kids in Ofakim, and introduced them to the "Values League" soccer program used at the Abir Yaakov School. Basically, the whole program is built upon core values like trust, loyalty, respect, and honesty, and each team has to demonstrate these values to earn points – not just score goals! My friends at the tournament had a blast, but more importantly, we raised about $15,000 for the field. 
Fast-forward to my trip to Ofakim last week. The field was finally ready and my family and I headed back to Israel for the dedication. First, we had a Values League tournament. I was the referee, along with two boys from the school who are both orphans. They were the sweetest kids and loved being my assistant referees! It was great to give them this special role. 
The kids from the school were so awesome and so excited to meet me! Those who didn't play soccer cheered in the stands. Then we went to the school for the dedication. They had decorated the whole field with balloons, wrapped red ribbons around the goals, and created a presentation for me, including having the school chorus sing some beautiful Israeli songs. When I cut the ribbon, the whole school cheered, and then I was surrounded by these awesome kids who were just as excited as I was! They were all asking to follow me on Instagram. I left that day with 72 new followers, all under age 11! They also gave me a soccer ball that they all signed. I couldn't believe how hard everyone worked and how much excitement there was around this special day. It's amazing that the idea was to give something to them, but really, I felt like they gave ME so much! I never expected that.
These kids are now my friends, and this community is my home. I can't believe what one dream turned into. I loved the experience of using "the beautiful game" of soccer as a bridge to connect with kids from a different culture than my own. I hope to continue to develop this project even further, using soccer as the common language between kids of all different backgrounds. I will never forget the love and excitement and feeling of pride that this mitzvah project gave me.  
Josh lives in North Caldwell and is in ninth grade at West Essex High School. His mother Debbie is a member of the P2G Steering Committee and has been instrumental in developing the Yoga Connections program in Ofakim/Merchavim.